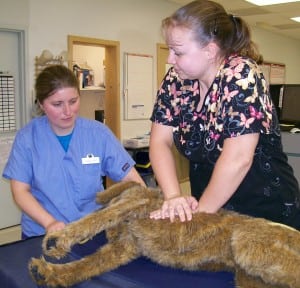 Duncan's Fund for Education supports the field of veterinary medicine by:
Providing continuing education opportunities for veterinary doctors and technicians in our region on a regular basis throughout the year. These sessions are held at Duncan's Center for Veterinary Education, located in the back of the Veterinary Specialists and Emergency Services building.
Sponsoring veterinarians and veterinary technicians as they attend continuing education seminars and conferences to gain deeper understanding and skills.
Training veterinary professionals and emergency first responders on animal CPR and first aid techniques.
Offering a Veterinary Medicine Explorers Post through the Seneca Waterways Council for high school students interested in a career with animals.
Purchasing needed books, technology, and equipment for veterinary hospitals.
In the words of Amy Karch, Board Member and Founder of Duncan's Fund for Education:
In the words of Amy Karch, Founder of Duncan's Fund for Education and Former Board Member:

"In 2007, our young and much-loved family dog, Duncan, experienced a medication error that resulted in an emergency visit to the Veterinary Specialists and Emergency Service (VSES). The professionals there did everything possible to save his life, but after four days of valiant effort, he did not survive. Being very touched by the compassion and skills of the team at VSES, my family wanted to try to make good things come from this very bad experience, and we founded Duncan's Fund to support veterinary education in the greater Rochester area. We felt that if the adverse effects of the drug he was given were better known, and understood, then this may never have happened and other families would not have to go through such an unexpected loss.

A year later, in 2008, the MVA Hope Foundation was established. Now called Rochester Hope for Pets, the foundation helps pet owners with the costs of urgent veterinary care. Because continuing education can make that care better, and may even prevent problems that would need more care, Duncan's Fund became a component of Rochester Hope for Pets. Duncan's Fund has supported educational programs for veterinarians and veterinary technicians, obtained books and reference tools, made facility improvements, and purchased five animal mannequins that support training in areas such as CPR and intubation. In 2015, Duncan's Center opened; this state-of-the-art conference center is located in the same building as VSES and hosts veterinary continuing education courses and public programs for pet owners.

Through education, critical improvements can be made in the delivery of veterinary care and can enhance the lives of pets and their caregivers. Rochester Hope for Pets fills a unique niche in our community through its focus on pet-family units that are already established. Research has shown that companion animals greatly improve the quality of life for their owners. When a situation arises where families need help getting life-sustaining care for their companions, RHFP is there to help through education, research, and outreach programs."