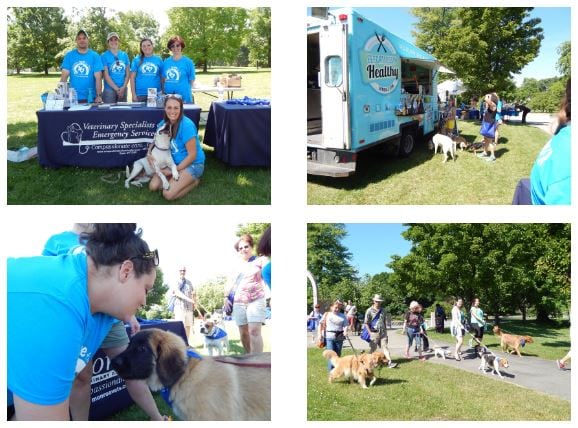 On June 18th, Highland Park went to the dogs! Dogs of all sizes strolled through the park for our 8thAnnual Dog Walk and Pet Education Expo.
This year's expo was our largest ever with more participants than any previous walk in the last eight years! 105 walkers and their furry friends came out for what turned into a hot and sunny day at Highland Park.
Among the walkers were several past recipients of Rochester Hope For Pets grants who dealt with a veterinary emergency and faced financial hardship. The funds raised at last year's event, totaling nearly $8,000, provided awards to 47 pets and their owners. While our awards can't always provide for the full amount of an animal's procedure, our goal is to award grants that will help give them the lifesaving treatments they need.
This year's walk raised just over $4,500 which will go directly toward helping families pay for emergency veterinary care at Veterinary Specialists & Emergency Services.
Attendees at our fun family event visited vendors at booths set up around the park and enjoyed food from the Effortlessly Healthy food truck on site, which generously donated 10% of their proceeds to Rochester Hope for Pets. Youngsters had fun at the bounce house in the Kid Zone and got to meet Striker, the mascot from WNY Flash. Pups sniffed out great deals on pet supplies and dog-training classes at the vendor booths and got their photos taken by Four Legs Photo.
The success of this year's walk not only raised money but also increased the awareness about our services to members of the Greater Rochester community, which is always our goal.
We are a 501(c)(3) not-for-profit organization that strives to improve the quality of life for pets living in the greater Rochester, NY area. We accomplish this goal in several ways: providing financial assistance towards life-saving veterinary care to pets and their families during times of need; enhancing care and treatment of pets at veterinary facilities in our region by assisting veterinary professionals with continuing education, current technology, and up-to-date reference literature; and partnering with other animal related non-profit organizations. Our organization relies on the generosity of private donors for funding.
Those still wishing to support Rochester Hope for Pets can make general donations or purchase commemorative bricks for the memorial garden at the Veterinary Specialists & Emergency Services building by visiting www.rochesterhopeforpets.org.
Written by Jennifer Kierecki, Freelance Write