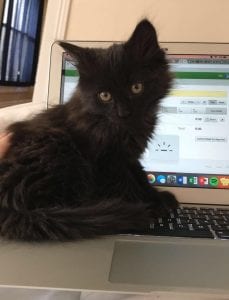 When he was eight weeks old, Atlas was adopted from a local shelter by Erica. He was missing one leg due to birthing complications, but that only made Erica love him more. She modified her apartment so it was easier for him to get around – steps where he couldn't jump high enough, and rugs on the floor so he didn't slip. Atlas fit right into his new life.
Less than a year after adoption, Atlas began struggling to urinate and lost his appetite. After a week of taking him to and from the vet's office, on Sunday, Erica knew she had to take him to Veterinary Specialists & Emergency Services. There he was diagnosed with a urinary blockage; if left untreated, Atlas would die. Despite having other bills and not knowing how she'd pay for the surgery, Erica elected to have it done – Atlas is part of her family. A friend encouraged her to apply to Rochester Hope for Pets, and in the end, she was awarded funds to help pay the bill. Afterwards, Erica said, "I know it sounds cliche, but I truly think that Atlas is the one who rescued me."
Thanks to Davidson Fink, Attorneys at Law for making this Tail of Hope possible!