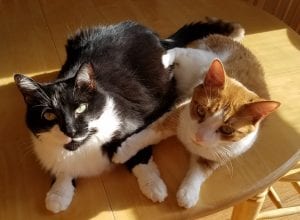 Shannon and her family adopted Copper in September 2011 when he was just a year old. He quickly became part of the family. Recently, Shannon noticed that Copper started making a strange noise when he went to go eat. He backed away from the food dish making choking sounds. Shannon took a video and showed her veterinarian, who diagnosed Copper with dental disease. He would need surgery to have his teeth cleaned and some extractions, and it was going to cost $650-$750. Shannon panicked. Relying on Social Security with two kids, this wasn't a doable cost.  Copper is a huge part of her family's life, so Shannon began looking into options to help finance the surgery, and was pointed towards Rochester Hope for Pets.
Rochester Hope for Pets was able to cover some of the surgery, making it more affordable. Copper had his teeth all cleaned and the bad teeth extracted. Now, Copper is doing much better. He is back to snuggling and eating just like usual!
Without Rochester Hope for Pets, Shannon's family would have had to give him away to another family that was able to pay for his treatment, or potentially put him down. Copper is an anchor for Shannon and her family. He guides them through their hardest moments, and reminds them how loved they are. Shannon feels that the dental surgery enabled by Rochester Hope for Pets truly saved her family.
This Tail of Hope is brought to you by our friends at Javen Construction – thank you Javen!