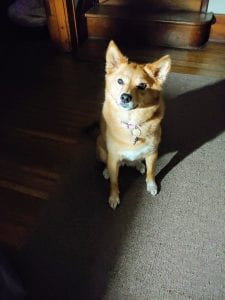 Daisy Mae was rushed to her primary care vet in July, where she had an emergency surgery after it was found that she had an obstruction in her intestines. Obstructions can be caused by eating things like toys, socks, or bones. The foreign material partially or fully blocks the intestine, preventing normal GI tract movement, and if left untreated, can quickly become fatal.
After surgery, Daisy was transferred to Veterinary Specialists & Emergency Services for post-surgical care. With a 24/7 team of highly skilled veterinary professionals, VSES was able to make sure Daisy was recovering properly and didn't have any complications from the surgery.
Between the surgery and the care afterward, Daisy's bill was becoming too great for her family to afford. RHFP made an award to help ease the burden, and afterward her mom said, "I would like to thank you and your organization for your generous gift in helping me and Daisy Mae through a difficult time. It was greatly appreciated. As you can see from the pics below she is healing and feeling more like her self again. Daisy and I are very grateful from the bottom of our hearts." We're so glad you're feeling better, Daisy!