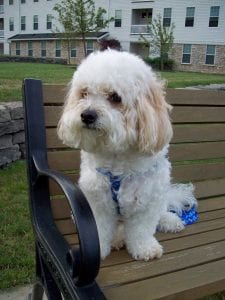 Hudson was born in 2006 in Corsicana, Texas and came to his loving owner, Jean, at 8 weeks old. Together Jean and Hudson lived in Texas, Maine, and then finally returned to Jean's hometown of Rochester.
In early February 2018, Hudson slipped on some ice and partially tore a ligament in his knee. During a follow-up visit for his leg, the Veterinarian noticed that his lymph nodes were enlarged. Biopsies were taken, and on March 9 Hudson was diagnosed with stage 3 Lymphoma.
Hudson immediately began receiving treatments at VSES. From March 13 to August 21 Hudson underwent 16 chemo visits. Due to the financial implications of such a disease, Jean's cousin suggested she reach out to HOPE. The partial grant Hudson received went directly into his chemo treatments.
Now 12 years old, Hudson is in remission thanks to his "I can do this" attitude, exceptional care from VSES, and support from so many of his friends and family.
It can be difficult for pet owners to carry the emotional and financial weight of these intense medical conditions on their own. Jean was very grateful to have some of both burdens lifted of her shoulders by Rochester Hope for Pets, for the emotional support of friends and the exceptional care Hudson received at Veterinary Services Emergency Services.