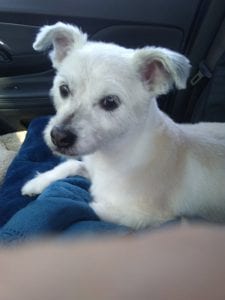 "In 2009 I just purchased my first home and for a house warming gift, my best friend surprised me with two puppies from her dog's litter; my boy Jakey and my girl Brooke. Both Jakey and Brooke were the love of my life until the Fall of 2016; at which time Brooke became ill and even after blood transfusions, she passed away. After Brooke's passing, Jakey seemed to be in good health, even though he missed his sister. In March of 2017 Jakey became ill and would not eat. Jakey spent a week in the Animal Hospital, with 24 hour care, and he was diagnosed with pancreatitis, and diabetes. Two weeks later, Jakey became blind.
Since March of 2017, Jakey has been hospitalized for a week each year due to the pancreatitis. Jakey has been going for testing every 3-6 months for his Blood Glucose Levels. In 2019 Jakey was diagnosed with Cushings Disease and requires testing, at the Animal Hospital every few months to regulate his medication.
I have been working three jobs to keep up with Jakey's medical bills and for his medication. Jakey is on Human Insulin, Cushings Medication, Prescription Dog Food and Eye Drops. Over the past three years Jakey medical bills from the hospitalizations and prescriptions have cost over $20,000.00. No amount of money can replace the love and enjoyment I share with Jakey.
On July 5th of this year, Jakey woke up very sick and I rushed him to the Emergency Animal Hospital. Jakey was moved to the ICU for 4 days and would not eat; due to pancreatitis inflammation which caused his Diabetes to fluctuate and elevate his liver enzymes.
I have always know about Rochester Hope for Pets and would refer my friends to them whenever they needed pet assistance; however never reaching out for my Jakey. When I received the estimate for Jakey's July 5th stay (between $3500 to $5500) I decided to reach out to Rochester Hope for Pets for any assistance. I was very excited and grateful to hear that I was granted an award to assist with Jakey's estimate.
I would like to express my sincere gratitude and gratefulness to Rochester Hope for Pets and to those who contribute and donate to Rochester Hope for Pets. It is truly wonderful to know, there are other people out there, like me, who love and care for their pets. Jakey is so much a part of my life and family. I am very grateful to be given another opportunity to bring him home with me." – Jakey's mom