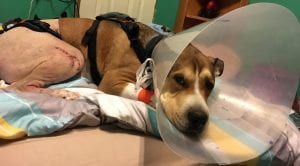 "I am extremely grateful to have your help. He is my best friend and he has been with me since he was 7 weeks old. I honestly wasn't sure how I was going to pay for all his treatments."
After Moeglie was hit by a car, his mom rushed him to Veterinary Specialists & Emergency Services. There he was diagnosed with hemoabdomen – blood was filling his abdominal cavity. He also needed to have his left hind leg amputated. The possibility of losing your best friend and the daunting bills from trying to save him would overwhelm anyone. Thankfully, a Rochester Hope for Pets award helped pay for a portion of the care – taking a giant burden off Moeglie's mom and allowing her to focus her attention on Moeglie's recovery.
This Tail of Hope is generously brought to you by Ceva Animal Health.