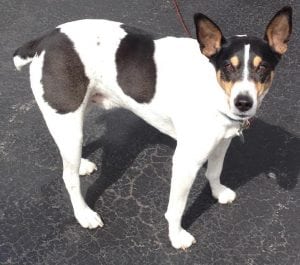 Morgan comes from a big family – five furry siblings and three human siblings. Unfortunately his owner had some big changes in her life that left her as a single mom trying to put her three human children through college while supporting herself and her six fur-babies. If that wasn't hard enough, in a short period of time, Morgan's four-legged brothers and sisters began to need extensive veterinary care ranging from multiple teeth extractions for one to a knee injury in another that would eventually require surgery.
When Morgan developed a mysterious growth on his foot that began to open up and bleed, his owner was at a loss of what to do. If the growth wasn't removed, he risked infection that could be serious in an older pup like Morgan. But, Morgan's owner had depleted her funding caring for the other ailments her pets had been dealing with that year. Morgan's mom reached out to Rochester Hope for Pets who was able to help provide a grant towards surgery to remove the growth on Morgan's foot.
Morgan is now recovering well at home with the help of his siblings and will be back to his spunky self in no time!