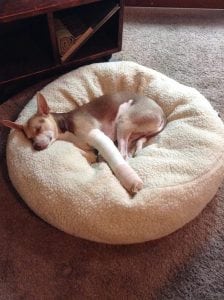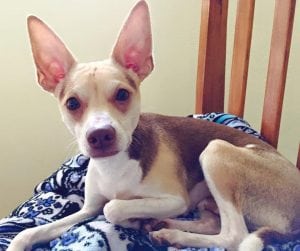 This is Rocky, a 16-pound Chihuahua mix who was found as a stray in the deserts of Southern California. He was shipped to New York to live with his new family, and they discovered he suffered from severe separation anxiety. One day, he jumped on the windowsill to watch his mom's car as she left and he slipped, fell and broke two bones in his front left paw.
Rocky's vet tried his best to put the bones back into place, but he is an active dog and kept getting out of his casts. By three weeks it was obvious that the bones weren't healing well. His family had already spent a lot and the choice at that time was amputation or a very expensive surgery. They were able to raise a large portion of the funds they needed through a GoFundMe campaign, but it was with the help of a grant from Rochester Hope for Pets that they reached their goal and moved forward with surgery.
One metal plate and nine screws later, Rocky is running and jumping and chasing squirrels and experiencing snow for the first time in his fur-ever home!